Supporting Transition Care Plan (TCP) or Post Acute Care (PAC) during convalescence
After spending time in hospital you may still need a period of convalescence at home, this is sometimes referred to as a Transition Care Plan (TCP) or Post Acute Care (PAC).
Your GP or Hospital care Workers will create a Transition Care Plan (or Post Acute Care Program) and advise what services are available to assist you at home during this convalescence period.
However, there will be gaps in the care, where you are on your own at home, but Care Workers and Family members want to ensure your wellbeing.
The CHUFFTY Interactive Device can help.
CHUFFTY Interactive not only detects room movement (detects you are moving around the home) but also allows you to log and inform your Care Workers or Family Members how you are coping.
The device can log & inform participants:
When you have taken your medications
When you have consumed food or liquids
When you perform physical or mental exercises
Non-intrusive, no cameras for your privacy
Alerts participants if something is overdue or no movement detected for a long period of time
This allows remote wellbeing monitoring to be provided when your care Workers or Family members cannot be physically present.
The device is easy to use, and simply requires an existing home internet/WiFi connection.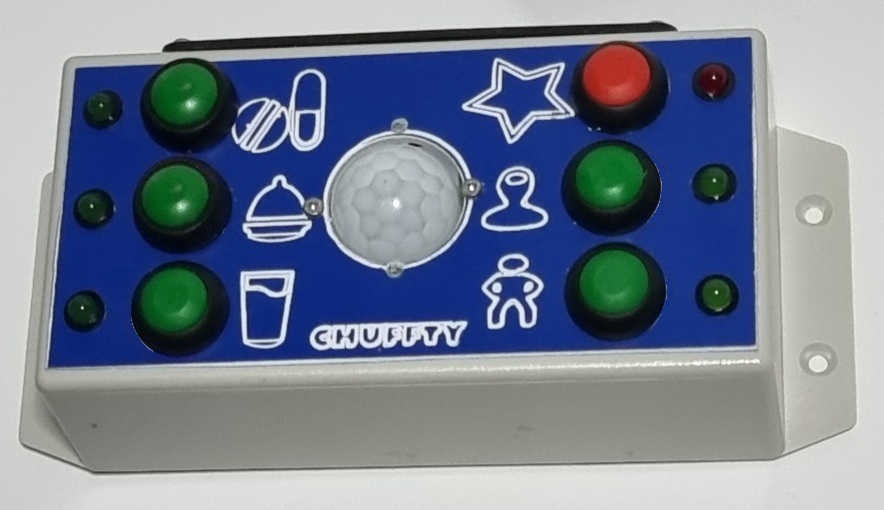 Book a chat on how the CHUFFTY Interactive Device could assist with your Transition Care
More about the CHUFFTY Interactive Device
STEP 1
Sign Up to the CHUFFTY cost effective $60 per month subscription

STEP 2
Purchase the CHUFFTY devices you need

(Check our Starter Bundle)
| | | | | |
| --- | --- | --- | --- | --- |
| | | | | |
| | | | | |
| CHUFFTY records when you take your medications. IMPORTANTLY, you get an auto-reminder if you forget | CHUFFTY records when you have had a meal, or when your meal delivery has arrived. Also your liquid intake for hydration | CHUFFTY monitors room movement, measuring mobility & trips to the toilet which may indicate health issues | CHUFFTY records when you complete mental or physical exercise, helping to reach your set goals | CHUFFTY records pain or mood so trends can be analysed to determin improvements or deterioration |