Home Care Monitoring Devices

You want to look after a loved one but distance makes daily contact difficult.

Your loved one wants to maintain their independence and not feel like they may be a burden.

You maybe busy with work or looking after a young family.

You want regular updates on how your loved one is, but cannot physically be there every day for them.

The CHUFFTY solution is here to help, using discrete home monitoring devices to inform you daily on how your loved ones are coping.

Get alerts when things are not going so well or when assistance is required by your loved one.



Personal Monitoring Technology For Seniors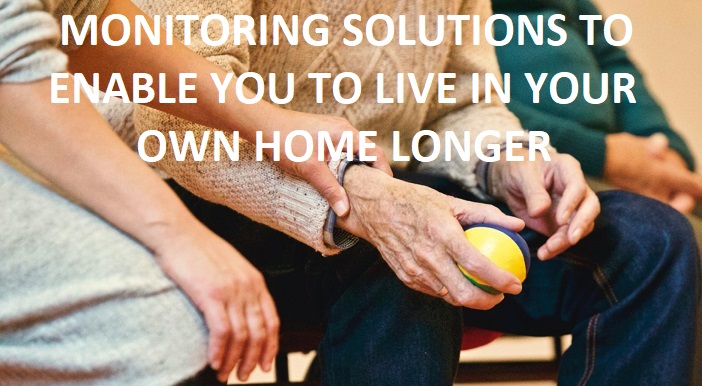 Home Care Monitoring Devices For Seniors Living At Home Independently

What Is CHUFFTY?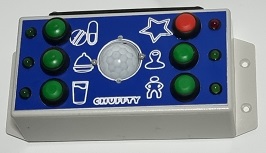 CHUFFTY is a Monthly Subscription Service which provides the ability to monitor and log activities performed by the user within their own home. Using discrete motion sensors (not cameras), CHUFFTY learns routines and behaviours and then alerts if things change. The Carer can now determine how the person is remotely & get alerts if things change.
Example 1:
The person usually gets up around 7am, but today no movement is detected and it is 8am, CHUFFTY raises an alert to the Carer in case the person is unwell.
Example 2:
The person needs to take medication at 10am, but it is 10:30am and no medication has been logged, so CHUFFTY raises a reminder.
Example 3:
The person is asked to follow a Care Plan which may include physical & mental activities, CHUFFTY logs those activities which have been completed so the Carer can remotely view the goals achieved.
Example 4:
The person is usually moving around the home at this time of day, but no motion has been detected for a while, an alert is raised to the nominated Carer in case the person has had a fall or needs assistance.
CHUFFTY Home Care Monitoring Devices Feature:
Being interactive, the participant is actively demonstrating the ability to follow a plan, perform regular activities, meet agreed goals and provide wellbeing information on a daily basis
Simple press button operation – not complex
Visual indication of successful submit to server
Silent motion detection and door open/close logging provides non-intrusive data collection
Auto-reminders & alerts according to your needs – Medication monitoring, door left open etc
Check meals and liquids are being consumed
Battery operated – no dangerous mains power needed
No cameras used to maintain privacy (detects motion)
Uses existing home internet connection
Internet communication using industry strength encryption for your data security
Devices are small and light weight – easy to install
Cost Effective $60 Monthly Subscription
Live in your own home for longer.
Live an independent life.
Definition: CHUFFTY
Phonetics: ʧ:ʌ:f:ti

Adjective
CHUFFTY describes something, or someone, that performs a job or activity for another person, so making that other person feel relaxed, happy or "chuffed".


How Home Care Monitoring Devices Work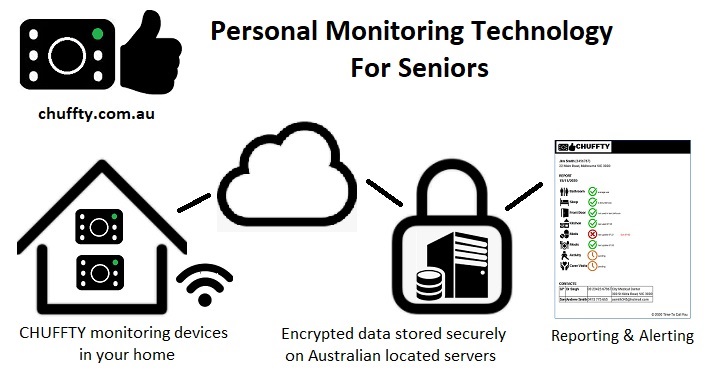 CHUFFTY Devices support seniors in living independently longer in their own homes
Cost Effective $60 Monthly Subscription
| | | | | |
| --- | --- | --- | --- | --- |
| | | | | |
| | | | | |
| CHUFFTY records when you take your medications. IMPORTANTLY, you get an auto-reminder if you forget | CHUFFTY records when you have had a meal, or when your meal delivery has arrived. Also your liquid intake for hydration | CHUFFTY monitors room movement, measuring mobility & trips to the toilet which may indicate health issues | CHUFFTY records when you complete mental or physical exercise, helping to reach your set goals | CHUFFTY records pain or mood so trends can be analysed to determin improvements or deterioration |