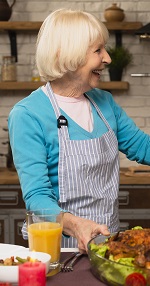 A balanced diet and, more importantly, adequate liquids are essential to good health in seniors.
Often, seniors can forget to drink appropriate amounts of water regularly throughout the day.
Your Carer or relative may have introduced a Care Plan which involves taking food and liquids at regular times.
The CHUFFTY MEAL & LIQUID REMINDER maybe just what you need.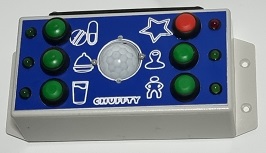 The CHUFFTY Interactive Monitor allows you to log when you have taken a drink or meal, maybe as part of a Care Plan.
The CHUFFTY Portal is automatically updated at the press of a button, and now your Carer or relative can easily see you have maintained your Care Plan. No need for them to disturb you.
Automatic Reminders
In the event of you forgetting to take your Meal or Liquid, a simple pre-recorded phone call or SMS message is sent to remind you.

CHUFFTY Monitoring Devices help you live independently in your own home for longer.
STEP 1
Sign Up to the CHUFFTY cost effective $60 per month subscription

STEP 2
Purchase the CHUFFTY devices you need

(Check our Starter Bundle)
Call us to learn more or browse the available monitoring devices
| | | | | |
| --- | --- | --- | --- | --- |
| | | | | |
| | | | | |
| CHUFFTY records when you take your medications. IMPORTANTLY, you get an auto-reminder if you forget | CHUFFTY records when you have had a meal, or when your meal delivery has arrived. Also your liquid intake for hydration | CHUFFTY monitors room movement, measuring mobility & trips to the toilet which may indicate health issues | CHUFFTY records when you complete mental or physical exercise, helping to reach your set goals | CHUFFTY records pain or mood so trends can be analysed to determin improvements or deterioration |