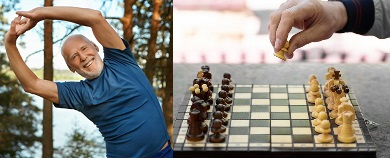 Maintaining regular Physical and Mental exercise later in life is essential.
Your Carer or relative may encourage you to perform regular exercises, possibly as part of a Care Plan.
With the CHUFFTY Interactive Monitoring Device you are able to log each time you perform a Mental or a Physical Activity. This allows your Carer or relative to easily see you are maintaining good practices and ensuring your own personal well-being.
An added advantage is you can use the reports as a "diary" to monitor your own accomplishments.

CHUFFTY Monitoring Devices help you live independently in your own home for longer.
STEP 1
Sign Up to the CHUFFTY cost effective $60 per month subscription

STEP 2
Purchase the CHUFFTY devices you need

(Check our Starter Bundle)
Call us to learn more or browse the available monitoring devices
| | | | | |
| --- | --- | --- | --- | --- |
| | | | | |
| | | | | |
| CHUFFTY records when you take your medications. IMPORTANTLY, you get an auto-reminder if you forget | CHUFFTY records when you have had a meal, or when your meal delivery has arrived. Also your liquid intake for hydration | CHUFFTY monitors room movement, measuring mobility & trips to the toilet which may indicate health issues | CHUFFTY records when you complete mental or physical exercise, helping to reach your set goals | CHUFFTY records pain or mood so trends can be analysed to determin improvements or deterioration |