Home Monitoring Reporting & Alerting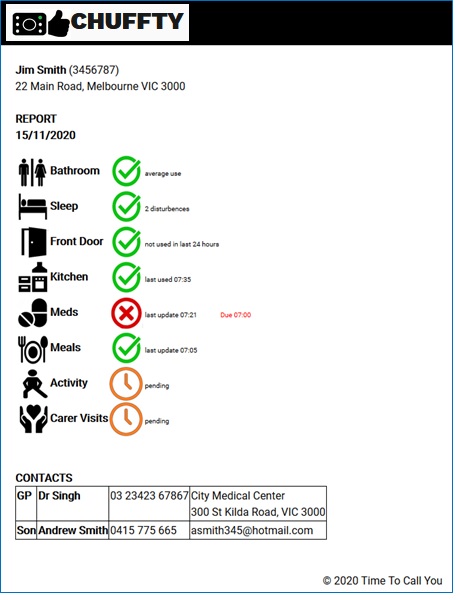 Your CHUFFTY Devices monitor the home environment and log this information on the Time To Call You secure servers located in Australia.
Time To Call You analyses the data and provides not only internet access to view the information, but also alert services (SMS, Email, Voice) when needed.
For example, if no motion has been detected for a period of time when usually there is activity then this may indicate an issue, maybe the client cannot get out of bed, has had a fall etc. The Time To Call You alert service would then send an alert to the nominated contacts (children, carers, etc).
$60/month

CHUFFTY SUBSCRIPTION SERVICES supports elderly independent living through the use of interactive home care monitoring devices

CHUFFTY devices meet ACMA RCM for your safety
Time To Call You are a registered
Australian Electrical Regulatory Authorities Council (ERAC)
Responsible Supplier