Your relative or loved one wants to maintain their independence. They are still active and capable and want to live their own life.
However, as a caring person you also worry about them. You worry about their health and wellness.
You and your loved one both agree Aged Care is not an option at this stage, however, you as a carer need to know that things are going okay while you cannot physically be there.
Telephoning every couple of hours is not good for either party, so a less intrusive method is required to give you piece of mind everything is going well.
The CHUFFTY Solution is what what you have been looking for. It is an alternative to Aged Care, and offers discrete monitoring with alerts when events of concern occur.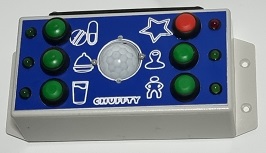 The CHUFFTY alternative to a Care Home is something you both see as a positive.
As a Carer, CHUFFTY gives you visibility via a secure web portal of the activities undertaken by your relative or loved one.
As the Senior, you retain your independence and are able to live in your own home for longer.
MOTION DETECTION – CHUFFTY monitors daily movement around the home through the use of motion sensors, alerts are raised when movement is not detected during normal times e.g. 6am to 11:30pm – no movements may indicate a fall or the need for assistance.
MEDICATIONS – CHUFFTY also logs when medications have been taken, and if medications have not been taken at the required time, a pre-recorded telephone call (or SMS) reminder is sent.
MEALS & LIQUIDS – CHUFFTY also logs when meals or liquids have been consumed.
ACTIVITY – CHUFFTY also logs when mental or physical activities have been performed maybe as part of a Care Plan.
PRIVACY – CHUFFTY does not use cameras, so privacy and dignity are retained.
HABIT FORMING – CHUFFTY Interactive encourages a daily habit of usage and the ability to measure behaviour against an agreed Care Plan of daily activities.
CHUFFTY uses your existing internet connection, and you can add many different devices to cater for your unique needs.
So consider CHUFFTY as an alternative to an Aged Care Home so your loved one can live in their own home for longer.

CHUFFTY Monitoring Devices help you live independently in your own home for longer.
STEP 1
Sign Up to the CHUFFTY cost effective $60 per month subscription

STEP 2
Purchase the CHUFFTY devices you need

(Check our Starter Bundle)
Call us to learn more or browse the available monitoring devices
| | | | | |
| --- | --- | --- | --- | --- |
| | | | | |
| | | | | |
| CHUFFTY records when you take your medications. IMPORTANTLY, you get an auto-reminder if you forget | CHUFFTY records when you have had a meal, or when your meal delivery has arrived. Also your liquid intake for hydration | CHUFFTY monitors room movement, measuring mobility & trips to the toilet which may indicate health issues | CHUFFTY records when you complete mental or physical exercise, helping to reach your set goals | CHUFFTY records pain or mood so trends can be analysed to determin improvements or deterioration |